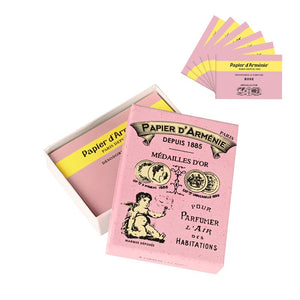 PAPIER D'ARMENIE
PAPER INCENSE VINTAGE BOX "ROSE" (6 BOOKLETS)
Regular price
$33.00
$0.00
Discover this elegant Vintage presentation box inspired by the 1885 graphic style holding 6 « Rose » booklets! The historical visual illustrates the age of « Papier d'Arménie® » and reminds us all the awards won by the brand since 1885.
A journey through time, the perfect gift for all our famous booklet lovers.
The box has 6 booklets and each booklet has 36 strips.
Instructions for use
Tear off one strip, fold it like an accordion and place it on its longest thinest side on a heat-resistant surface. Light it, blow gently so that the paper does not burn up (Papier d'Arménie® should burn slowly).
Papier d'Arménie® can also be used without burning. Tear off entire sheets and place them in wardrobes, dressings, chest of drawers, books, etc. They will be perfumed with a subtle, delicate scent.
Papier d'Arménie® can be used all year round to scent your home and create an atmosphere of well-being.

Some Advice
• Burn one strip at a time, 3 to 4 times a week
• Ventilate your home regularly
• Never leave a burning strip unattended
• Do not leave the product within reach of children.
---
Share this Product
---